Ripple's latest Q3 2020 report shows the firm made On-Demand Liquidity (ODL) sales of $81 million this quarter. By contrast, the previous quarter had ODL sales of $33 million.
In addition, the Average Daily Volume (ADV) also showed a marked increase. This quarter's ADV is up 106% to $404 million dollars, leading to a total XRP volume in Q3 2020 of $37 billion.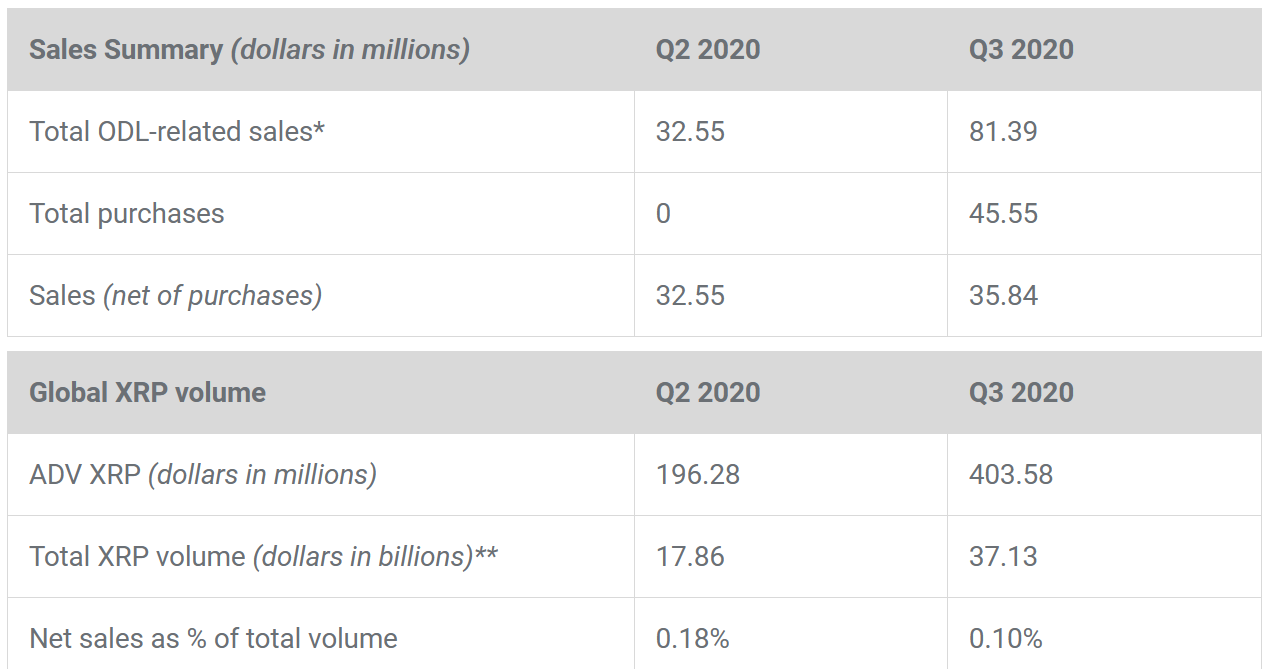 Source: ripple.com
The solid quarterly performance is met with a new activity in "total purchases", which came to $46 million this quarter. It refers to Ripple acting as a buyer of XRP in the secondary market.
Ripple's "Line of Credit" Boosts ODL Sales
Last quarter saw Ripple launch a new beta service called "Line of Credit". Essentially, this allows ODL customers to buy XRP on credit directly from Ripple.
The thinking behind "Line of Credit" is to expand XRP use for the purposes of cross border payments.
"With Line of Credit, customers can purchase XRP from Ripple on credit which provides capital upfront to help accelerate their business performance and scale. Line of Credit has been piloted by ODL customers and the initial feedback is overwhelmingly positive. Companies can use the capital to further invest in their business to enter new markets and reach new customers."
The ODL payment service, previously called xRapid, uses XRP as a bridge between two fiat currencies. It is advantageous over legacy payment methods in that ODL customers can hold money in their preferred currency. As such, transfers no longer require fully funded accounts in all of the currencies dealt with.
By adding credit to the mix, ODL customers have more flexibility over capital allocation.
Based on the 150% increase in ODL sales, the "Line of Credit" beta service is a hit with ODL customers.
Ripple Buying XRP to Offset Concerns of Oversupply
XRP dumping, also known as programmatic sales, was the topic of much frustration within the XRP community. Following a sustained bout of community pressure, this practice ceased in Q4 2019.
The change.org petition, led by @Crypto_Bitlord achieved its goal, of stopping Ripple from dumping XRP, even without reaching the 5,000 signature count.
"Ripple continue dumping billions of XRP on us, crashing the price! Its amazing this sort of behaviour is widely accepted in the crypto world. Sure we know that XRP is a solid coin with major potential but this needs to stop!"
Many in the community saw a direct correlation between Ripple "dumping" its monthly escrow released XRP and the stagnant XRP price. The oversupply of XRP on exchanges was thought to be a contributing factor to poor price performance throughout that period.
With the "Line of Credit" beta service, a similar concern, to do with oversupply, raises its head. However, this quarter has seen Ripple actively intervening in the secondary market, by buying XRP at market prices, to reduce supply.
Q3 2020 shows Ripple purchased 46 million dollars worth of XRP to "support healthy markets". Although Q3 2020 report mentions this is to offset "Line of Credit" oversupply, it's also possible that Ripple is buying XRP to counter the legacy effects of "XRP dumping".
It's been almost a year since Ripple stopped dumping its native token, but the price of XRP continues to stagnate relative to the performance of key rivals.
Having said that, the past seven days has seen a 10% increase to $0.2580.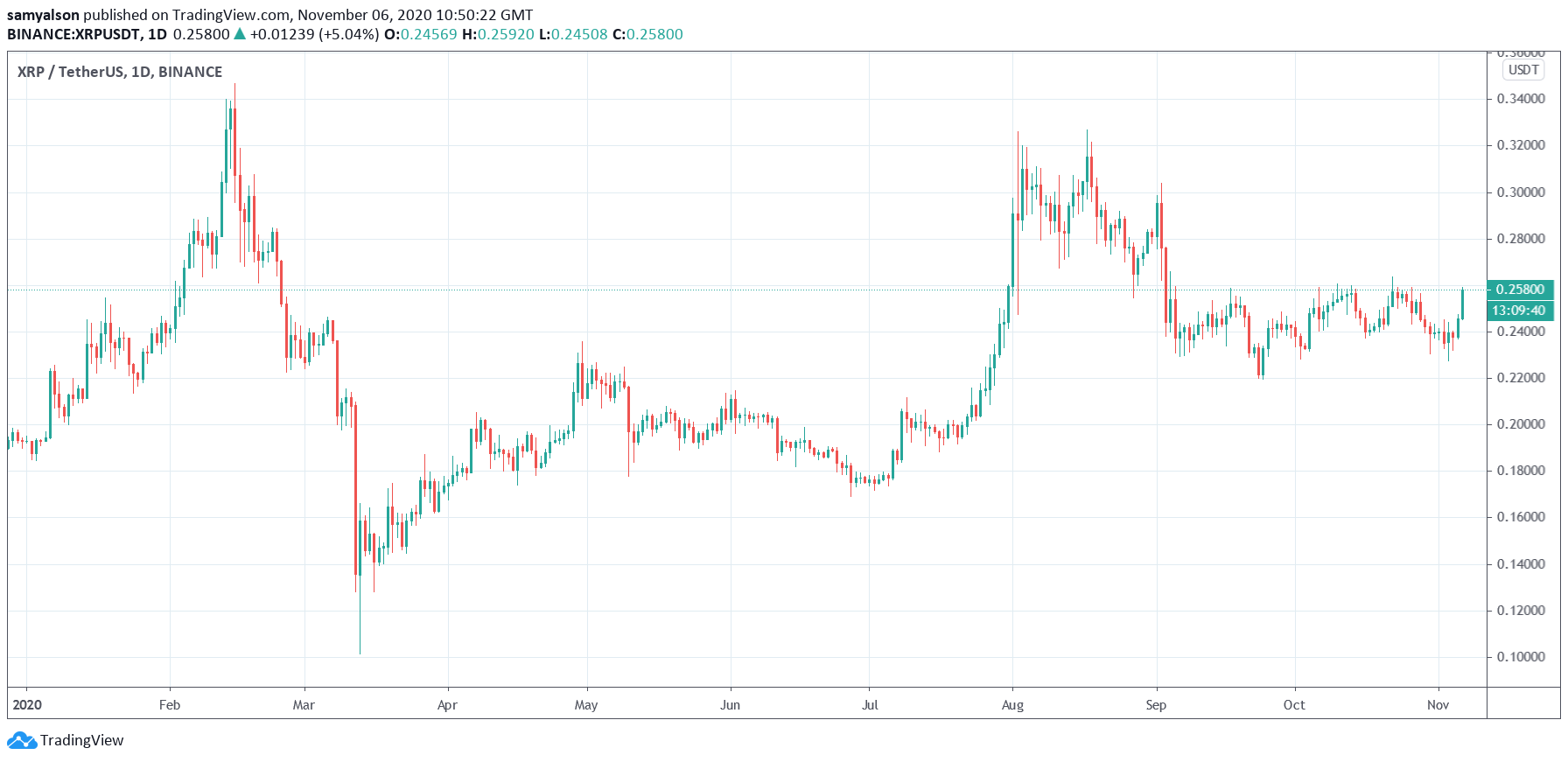 Source: XRPUSDT on TradingView.com